—Bite-sized advice for better business writing—
June 18, 2019
How to Energize Your Writing
"A sentence should contain no unnecessary words, a paragraph no unnecessary sentences, for the same reason that a drawing should have no unnecessary lines and a machine no unnecessary parts."
— William Strunk, Jr.
As you probably know, friction slows objects in motion. In writing, wordiness and passive constructions have a similar effect. These sentence problems make ideas harder to understand, forcing readers to slow down.

You can energize your writing and improve the clarity of your ideas by avoiding hidden verbs, expletives, and the passive voice. 


Avoid Hidden Verbs (Nominalizations)
A nominalization is a verb that has been turned into a noun. Find the hidden verb and use it to revise your sentence.
Sluggish: I gave a description of the product.
Energetic: I described the product.
Sluggish: We provided our client with a recommendation for a new investment strategy.
Energetic: We recommended a new investment strategy for our client.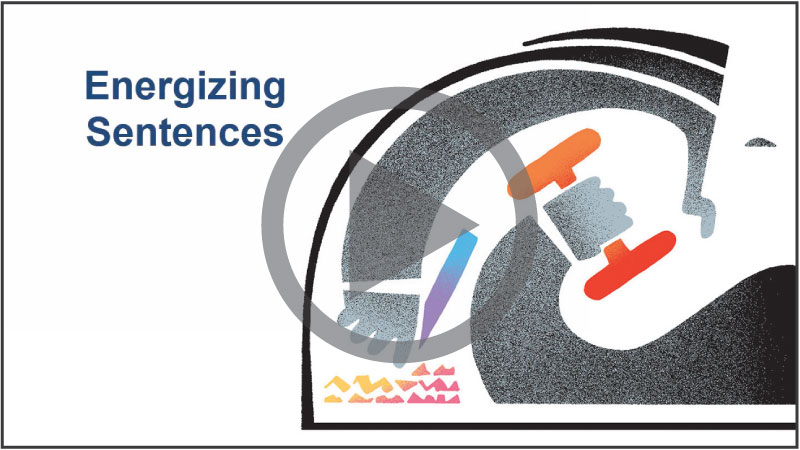 Remove Expletives
Expletives are filler words such as it is and there is. They serve no purpose in most sentences. Remove the expletive to energize the sentence.
Sluggish: It is certain we will finish on budget.
Energetic: We certainly will finish on budget.
Sluggish: There is also our adherence to the deadline.
Energetic: We also will adhere to the deadline.
Make Passive Sentences Active
Passive voice means the subject of the sentence is being acted upon rather than doing the action. Find out what is doing the action and make it the subject.
Passive: The meeting will be attended by Sonja.
Active: Sonja will attend the meeting.
Passive: A great time was had by everyone.
Active: Everyone had a great time.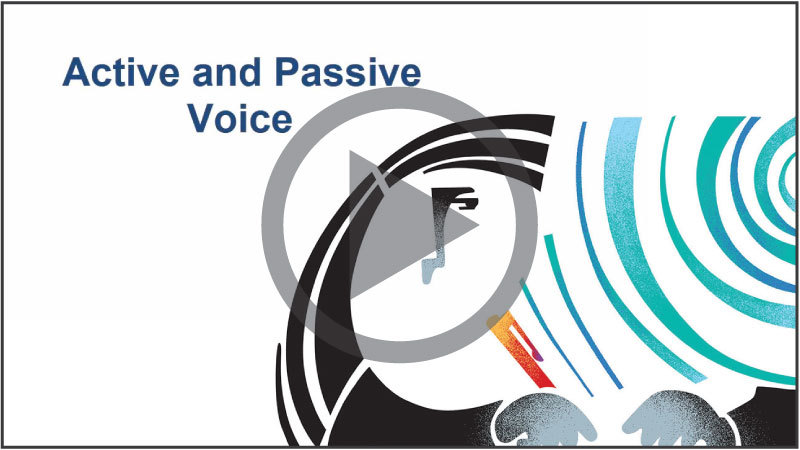 Play the Editor!

Copy the sentences into a document and revise to remove any hidden verbs, expletives, or passive constructions. (Scroll to the bottom of the newsletter to see our recommendations.)

Our application sets a requirement for two letters of recommendation. 
We made an announcement of another strong performance in 2018.
The highest financial strength ratings of any regional insurer were received by Rankin Advisors. 
There is a description of the problem that appears below. 
In the last 14 years, the Purchase Reward Program has been enjoyed by 200 local businesses. 
It is a good idea to review our inventory. 

Copy the following email into a document and revise to remove any hidden verbs, expletives, or passive constructions. (Scroll to the bottom to see a recommendation.)

Dear Russ: 

Proposals for a new sound system at Hope Services Child Care Development Centers were reviewed by me. Two firms, Keebler Electronics and Ascot Sound, submitted bids that met our specifications.

I make the recommendation that we accept the Keebler bid, which includes hidden wiring and an additional four years of warranty. There is one other reason, which is Keebler's Better Business Bureau's accreditation.

If you agree, please make a proposal for our plan to the Hope Services Board at the September meeting. 

Thank you, 
Aisha Walker
Editor's Suggestions

Our application requires two letters of recommendation.
We announced another strong performance in 2018.
Rankin Advisors received the highest financial strength ratings of any regional insurer.
A description of the problem appears below.
In the last 14 years, 200 local businesses have enjoyed the Purchase Reward Program.
We should review our inventory.

---

Dear Russ: 

I reviewed proposals for a new sound system at Hope Services Child Care Development Centers. Two firms, Keebler Electronics and Ascot Sound, submitted bids that met our specifications.

I recommend we accept the Keebler bid, which includes hidden wiring and an additional four years of warranty. One other reason is Keebler's Better Business Bureau's accreditation.

If you agree, please propose our plan to the Hope Services Board at the September meeting. 

Thank you, 
Aisha Walker