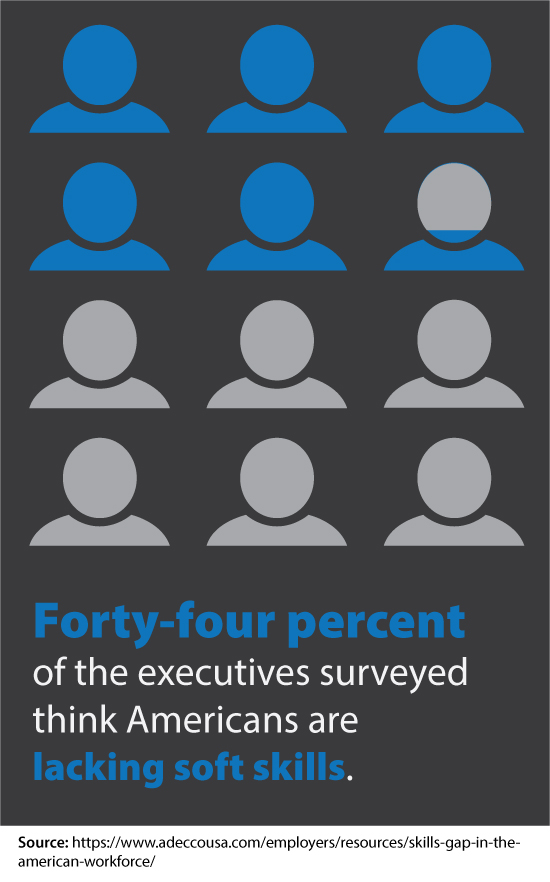 Workplace communication empowers you. If you can write and speak well, you can get a thought from your head into someone else's—a colleague's, a client's, a supervisor's, even a potential employer's. Communication helps you convince others and get things done. That's why business owners want workers with so-called "soft skills."
What is the "soft skills" gap?
Executives identify effective communication as the biggest skills gap among American workers.
Forty-four percent of the executives we surveyed think Americans are lacking soft skills—communication, creativity, collaboration, critical thinking, etc. Thus, while candidates may look good "on paper," they don't know how to effectively work within a team or in an office.
A recent survey by The Economist found that poor communication is having a profound negative impact on the workplace. Most respondents (62 percent) wished for firm-wide training in communication and a wider range of communication tools (63 percent).
We need to be more mindful in general about what format people use to get together and communicate . . . because we aren't always mindful about the mode of communication we use, people are often left unclear about responsibilities or unable to contribute meaningfully to the discussion.
Oregon State University is so convinced of the importance of workplace writing that it has curated a set of ominously titled articles:
How can I improve workplace writing?
You have three levels of support for improving your writing: