About Write for Business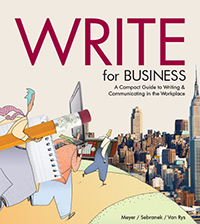 Write for Business is a free online resource that helps business writers and their organizations communicate effectively and efficiently. It offers a wealth of research-based and classroom-tested educational resources for business people, trainers, and instructors. The site also provides a nexus for an ever-growing array of courses that teach the writing, communicating, and thinking skills necessary in today's workplace.
First published in book form in 2000, Write for Business online is the special, 20th anniversary edition. Over its three revisions, Write for Business has become the go-to reference for workers in companies as diverse as Amgen and Blue Cross/Blue Shield as well as many federal entities from the Federal Housing Finance Agency to the Department of Homeland Security. It is also a key college writing text at institutions such as Johnson & Wales University, University of Wisconsin, and Gateway Technical College.
View the Table of Contents
If you like Write for Business online, you might want to pick it up in book form.
About Thoughtful Learning
We provide immediate solutions to common business-writing problems. Our philosophy is simple: If you succeed, we succeed. And how do you succeed? You write documents that clearly and powerfully communicate your ideas to others--opening doors, persuading colleagues and clients, forming alliances, and empowering you and your organization.
Thoughtful Learning combines 20 years of business-writing expertise from UpWrite Press with 40 years of K-16 expertise from Write Source. In addition to writers, editors, and designers, we field instructors at colleges and trainers in businesses across the country. We've also taught writers from kindergarten through college with handbooks such as Write for College, Writers INC, Write on Course 20-20, and Writers Express.
Proven, helpful, friendly, and effective--that's Thoughtful Learning. We're glad you're here!
Research Basis
Write for Business presents the rules of English in the same fashion as the following resource:
The University of Chicago. (2017). The Chicago Manual of Style, 17th Edition. Chicago: Author.
Write for Business also uses the seven traits of effective writing, a framework supported by 50 years of research. For more information about the seven traits, see the following resources:
Arter, J., Spandel, V., Culham, R., & Pollard, J. (1994). "The Impact of Training Students to Be Self-Assessors of Writing." New Orleans. Paper presented at AERA.
Culham, R. (2003). 6+1 Traits of Writing. Beaverton, OR: Northwest Regional Educational Laboratory.
Diederich, P. B., French, J. W., & Carlton, S. T. (1961). "Factors in the Judgment of Writing Quality." Princeton, NJ: Educational Testing Service.
Grundy, T. (1986). "The Writing Program in the Beaverton School District." Oregon School Study Council Bulletin, 30(2).
Henning, K., Meyer, V., Van Rys, J., & Sebranek, P. (2011). Write for Work. Burlington, WI: UpWrite Press.
Hillocks, G. (1987). "Synthesis of Research on Teaching Writing." Educational Leadership, 44, 71–82.
Meyer, V., Sebranek, P., & Van Rys, J. (2011). The Business Writer. Burlington, WI: UpWrite Press.
Spandel, V. (2004). Write Traits. Boston, MA: Great Source.
As the central writing resource for the Federal Housing Finance Agency, Graduate School USA, and numerous federal agencies, Write for Business incorporates teaching from the following Federal Government resources:
Plain Language Action and Information Network. (2010). Federal Plain Language Guidelines. Washington, DC: Author.
Plain Language Action and Information Network. (2011). Plain Language: Improving Communication from the Federal Government to the Public. http://www.plainlanguage.gov. U.S.
U.S. Government Publishing Office. (2016). U.S. Government Publishing Office Style Manual. Washington, DC: Author.
View the Table of Contents